The Manuscript, Memorabilia & Collectibles Auction
Featuring personal belongings of Dodger Great Junior Gilliam
December 1, 2001


(If you have a problem viewing enlarged photos, your browser may be blocking pop-up windows. Check with your IT consultant.)

Autographs
Artists
Audubon's Travels and Work
Lot 37



Audubon, Lucy. Autograph Letter Signed ("Lucy Audubon"). Two pages, recto and verso and intertext, quarto, Louisville, January March 1832. Addressed on verso of the second page to Mrs. Gifford, Duffield Bank, near Derby, England. A full transcript is included. Transmittal folds, wax seal stain faint through all pages, 1½" paper loss at right edge of page two probably from removal of wax seal. Rare. Very good to fine.

Exceptional content in this letter to Lucy's cousin with details of the travels and work of the Audubons in the form of an extract from John Audubon's January 18, 1832 letter to his wife, written in St. Augustine, and praise from a Philadelphia newspaper. Audubon writes: "...Since I wrote to you last, I have discovered, shot and drawn a new Ibis, and have named it Tantalus Firs Cus...I have discovered three new species of heath...also a beautiful new Kalinia and several extraordinary parasitical plants..." Mrs. Audubon writes "...I do not know exactly when I shall see my husband, he is making a great sacrifice of comfort, money, and time from his family to improve and prosecute his Birds of America..." The Philadelphia Gazette article lauds Audubon's efforts and the success of his books.
Estimated Value $700-800.
Lot 38



Borglum, John Gutzon de la Mothe (1867-1941) American sculptor notable for creating the monument at Mount Rushmore. After receiving his training at France's École des Beaux-Arts, Borglum, the son of a woodcutter, returned to America and gained his first commission: that of the statue of Abraham Lincoln now standing in the rotunda of the Capitol building. Borglum was then asked to create a National Memorial in South Dakota featuring the likeness of four American presidents in colossal proportion. In fact, each head was to measure 60 feet high. Unfortunately, the artist died before the project was completed. His son, however, stepped in to complete the monument.

Document Signed ("Gutzon Borglum"). Four pages, quarto, Mount Rushmore, September 26, 1934. On pale yellow onionskin. Being a contract granting retail rights for souvenir items from Mount Rushmore to H.C. Farnham and Floyd Mellen of Omaha. Witnessed by Lincoln Borglum and three others. Also a Document Signed ("Gutzon Borglum"). One page, quarto, Mount Rushmore, October 3, 1934. On "Mount Rushmore National Memorial Commission" letterhead. To Mr. Farnham. Both documents have transmittal folds, paper clip stains and nicks and chips to the edges but are, overall, in very good condition.

A wonderful group dealing with some of the concrete issues involved in marketing and popularizing the soon-to-be completed National Monument. The unmistakable faces from Mount Rushmore would be featured as bookends, portraits, busts, and in other formats created by Mr. Borglum. Images of the souvenirs would be provided to Farnam and Mellen for advertising purposes, as would copies of articles and interviews which "may have been written about Mount Rushmore." The items would be supplied "in plaster and in forms hereinbefore stated in a total quantity of not less than ten thousand..." The second document, an addendum to the first, allows for extension of the one year contract "provided 50,000 casts have been sold. Otherwise some new agreement must be entered upon." It is important to remember that the opening of Mount Rushmore had been anticipated for some time: the press and newsreels kept the American public abreast of progress on the Monument and this commercial agreement would help to protect Borglum's interests.
Estimated Value $1,750-2,500.
Lot 39



Bourke-White, Margaret. Check Signed ("Margaret Bourke-White"). Partially printed, accomplished in typescript. New York, April 29, 1935. Drawn on the Bourke-White Studio account at the Chase National Bank and made payable to Aetna Printing Company in the amount of $15.20. Punch cancellation does not affect signature, stamp cancelled verso, minor toning. Fine.
Estimated Value $200-250.
Lot 40



Calder, Alexander / Archive (1898-1976). Abstract artist widely known for his colorful, and fanciful mobiles. Hailing from a long line of artists, a young Calder decided to break family tradition and pursue engineering. He quickly found his way back to the family trade, and began working as a commercial artist. As inspired by the circus, Calder was the first artist to actually make sculpture move, hence his creations were named "mobiles." Not limited to drawing or sculpting, Calder also produced toys, jewelry, tapestries and countless other creations.

Amazing archive of 18 letters written by Calder ("Sandy") to his friend Oscar Nitzschke. In French. Dates in the early 1960s, some mailed from France, others in the United States (most notably Painter Hill Road in Roxbury CT). Many transmittal envelopes included (one illustrated with Calder red, blue and yellow). Conditions vary, many of the envelopes have come unglued but the letters remain in good to very good condition. Translations included.

Topics of these wonderful letters include the Metropolitan Museum of Art, Calder's health, painting and travel. An example "Dear Oscar, First of all, I told myself 'Well, the Museum of Modern Art bought himself or herself A good artist!' but finally I saw your name, that you had carefully only half erased. It is very nice. And I thank you! Louisa and I are just getting back from spending 3 days in Roche Jaune -- where the weather was very nice...And there we saw Riton and Andre and Albert and Riton told us that you were 'painting' -- Bravo!!! While I am thinking about it -- do you know Leonard Scheer I saw him two years ago and he wrote to me recently...We would love to see you here, and I think you would like the setting...If you ever have pictures of your work I would love to have some. Here, I have a workshop and a barn and I am working rather hard...Tomorrow it is the trial of Diego Masson -- accused of having helped the FLN!..." Truly, an intimate look at a great artist.
Estimated Value $3,500-4,500.
Lot 41



Christy, Howard Chandler (1873-1952) American illustrator and portraitist, famous for his "Christy Girls" and World War I posters.

Illustration signed and dedicated ("Howard Chandler Christy"). One page, 7&frac34 x 8&frac34", n.p., 1929. Pencil on cream paper (probably trimmed from letterhead) mounted on paperboard. Minor smudging, otherwise fine.

A very nice, obviously unique piece from one of the most recognized illustrators of the 20th century. One of Christy's girls (with a lovely bob) watches over the inscription to Miss Ida Corey "with best wishes".
Estimated Value $200-250.
Lot 42



Church, Frederic Edwin (1826-1900) American Romantic landscape painter who was one of the foremost members of the Hudson River school. He was a student of Thomas Cole.

Autograph Note Signed with Original Artwork ("Church"). One page, 4&frac34 x 6&frac34", Carnegie, November 9, 1911. To "Dear Doctor". Tipped into larger sheet, 9&frac14 x 8". Minor toning of larger sheet, with one of its corners missing. Fine.

A very informal piece from this master of the grand vista. "Saw Jim W. to night, he will give me sitting soon. Send up size of sheet." Above the text is a sketch of two bears, one sketching another. Presumably this is meant to be Church and "Jim W." during the sitting mentioned in the note.
Estimated Value $275-350.
Lot 43



Hassam, Childe (1859-1935) Foremost American Impressionist painter and master etcher.

Signature ("Childe Hassam"). One page, large octavo, Long Island, May 18, 1930. On "East Hampton / Long Island" stationery. One horizontal fold, chipped upper right corner, otherwise fine.
Estimated Value $75-100.
Lot 44



Kent, Rockwell (1882-1971) American artist, author and activist. A successful artist and printmaker, Kent also wrote extensively about his experiences in Alaska, Greenland and in the waters near Tierra del Fuego. Kent's reputation as one of the foremost American Modernist artists suffered in the 1940s and 1950s as a result of his left-wing politics and he was blacklisted by McCarthy.

Signed Photograph ("Rockwell Kent"). Sepia toned, 4 x 6", n.p., n.d. Kent signs at the lower white margin of the photo. Kent's name stamped on verso, one ½"tear at left edge, faint residue at top right corner. Very good condition.

Kent stands poised on the deck of a ship, hand in pocket, face to the sun. Given the snow around him and the heavy clothes, Kent is likely on one of his trips to Alaska, Greenland or Tierra del Fuego. A wonderful picture capturing the artist where he wished to be, on an adventure.
Estimated Value $250-300.
Lot 45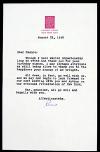 Kent, Rockwell. Typed Letter Signed ("Rockwell"). One page, small quarto, AuSable Forks, New York, August 21, 1968. On Kent's stationery. To Fannie Strauss. Accompanied by original transmittal envelope. Mailing fold, otherwise fine.

Thanking Mrs. Strauss for her birthday wishes on his 86th birthday: "...I may perhaps attribute my still being alive to thank you to the happiness your memory of me brought..." Kent's long and varied career and desire for experience and knowledge brought him into the lives of many and he was actively involved in art and politics until his death.
Estimated Value $150-200.
Lot 46



McManus, George (1884-1954) One of the most prolific of the early cartoonists, McManus is remembered today for his prototypical married couple, Jiggs and Maggie. The rags-to-riches pair fought it out in the funny papers, setting the tone for many later incarnations of the battle of the sexes.

Signature and illustration ("Geo McManus"). One page, 3 x 4", n.p., 1939. Black ink on white card stock. An original illustration of Jiggs himself, along with McManus' name and the date. One minor abrasion hidden in the name (visible on close examination), otherwise fine condition.
Estimated Value $75-125.
Lot 47



Motherwell, Robert [Modern Artists In America]. Signed Book ("Robert Motherwell"). New York: Wittenborn Schultz, Inc., 1951, 198 pages, 7&frac34 x 10&frac34". Motherwell signs in blue ink on the title page. Some chipping along binding, and wear at edges. Overall, in fine condition, signature is bold and clear.

Extensively illustrated with black and white photographs throughout, this book was, according to the front paste-down, "the first biennial to document modern art in the United States". Motherwell discusses American art from Jackson Pollock, Richard Diebenkorn and Elmer Bischof, but clearly, the book is not limited to American artists as there are references to Van Gogh, Paul Klee, Picasso, Matisse, and many others. Interestingly, Motherwell himself designed the front cover, and with the addition of his signature to the title page, this book truly becomes a collectible.
Estimated Value $375-475.
Lot 48



Parrish, Maxfield. Autograph Note Signed ("Maxfield Parrish"). One page, recto and verso, 5½ x 3½", Windsor, Vermont, July 1, 1930. Black ink on cream card stock. To Miss Ida Corey. Note recto, signed on verso. Very fine condition.

A charming note: "You said the most beautiful things & I wish they were true. May be you have got me mixed up with another, but no matter. Water colors are quite beyond me, and I have never done any, for all my oil painting may look like them..."
Estimated Value $200-250.
Lot 49



Peale, Rembrandt (1778-1860). Artist, noted for his portraits of George Washington and Napoleon.

Autograph Letter Signed ("Rem Peale"). One page, quarto, New York, November 29, 1835. In brown ink. To Prosper M. Wetmore, Regent of the University of New York. Three horizontal and two vertical folds, an abrasion measuring ½" at upper left starting from the edge, reinforcing strip verso along left edge, stains verso, and the paper is thin in one spot at lower left corner. In good condition overall.

Peale had written a book to be used by schools and families as a manual for drawing. Here, he implores Wetmore to review his book in hopes that the Regent might adopt the work as a suitable text for the University: "Permit me to solicit your examination of the second Edition of my Graphics, considerably improved. I am induced to hope that this mode of teaching Writing, by which the Student becomes possessed of the Art of Drawing, will be adopted for the public benefit by the Regents of the University."
Estimated Value $1,500-1,700.
Lot 50



Pissaro, Camille (1830-1903) French Impressionist, one of the masters of the movement. A teacher and friend to Gauguin and Cassatt, he was a favorite of his fellow artists and the only artist represented in all eight Impressionist exhibits . A devoted husband and father.

Autograph Letter Signed ("C. Pissaro"). In French. Two pages, large octavo, [Paris], May 14, 1897. To his wife: "Ma chere femme". Transmittal fold, ink smeared by author, remnants of penmanship exercise on the bottom of the second page, minor soil, otherwise fine.

Addressed to a London home, Pissaro reports on a doctor's visit for one of their children and mentions his work "...I wrote to Portier to ask him to conclude the painting deal at 800 francs..." (Pissaro is probably referring to Auguste Portier, the noted art dealer). It was in 1897 that Pissaro created his urban landscape series of the Boulevard Montmartre and he may be referring to one of these works.
Estimated Value $1,500-1,750.
Lot 51
Gibson, Charles Dana and Flagg, James Montgomery. Lot of two signatures. 1. ("CD Gibson") One page, large quarto, Maine, n.d. On "Seven Hundred Acre Island / Dark Harbor / Maine" letterhead. Inscribed "With all good wishes". Three horizontal and one vertical crease, minor soil and abrasion at corners, one small area of abrasion above inscription. Very good condition. 2). ("James Montgomery Flagg"). One page, 8½ x 3&frac14", n.p., May 23, 1930. Three vertical folds, soil at top corners, collector's description visible from verso along bottom edge (easily matted out). Very good condition.

Bold signatures from two of America's most famous illustrators.
Estimated Value $125-150.
Lot 52



Turn of the Century Autographs. Signatures. An eclectic assortment of signatures likely collected in the late 19th and early 20th centuries, heavily weighted towards British artists and American silent screen stars. Thirty-three signatures on letters, cut from notes, and in other forms are mounted on loose black album pages and include Sir George Gilbert Scott, Samuel Prout, James Whitcomb Riley, John Brett, William Frith, Rod La Rocque, Edith Storey, Charles Kempe, and convicted murderess Florence Maybrick. Conditions vary widely, inspection is recommended.

A treasure trove for the autograph scholar, there are several signatures we are unable to decipher which offer the opportunity for research.
Estimated Value $750-1,000.
Go to Next Catalog Page